Klamath County organizations show support, plans to aid new Kingsley Field Air Base mission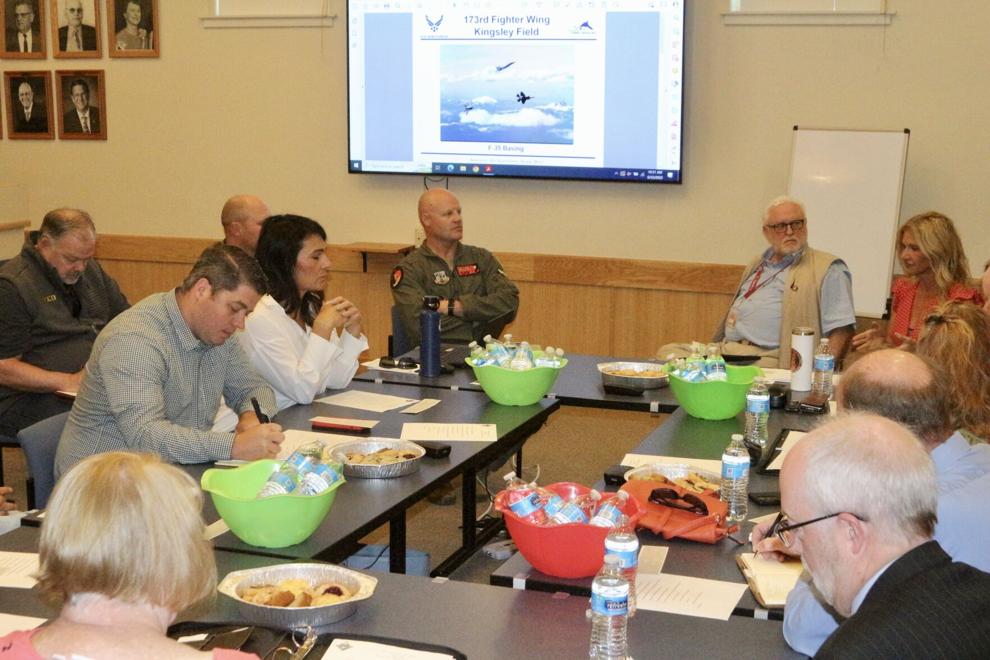 Thu Jun 22 2023 07:00:00 GMT+0000 (Coordinated Universal Time)
Representatives from the health care field, business sector and education came together with Klamath County Commissioner Kelley Minty and leadership from the 173FW Kingsley Field on Thursday, June 22 to discuss potential ways they can support Kingsley Field in its new mission of being a U.S. Air Force training base for the F-35 Lightning II.
Klamath County is ready, able and willing to support Kingsley Field Air Base in its new mission as the first readiness meeting — Hometown KF-35 — took flight Thursday, June 22.

Announced May 25 by U.S. Rep. Cliff Bentz (R-Ore.), the 173 Fighter Wing has been selected to be the latest training squadron for the U.S. Air Force's fleet of F-35A Lightning IIs, and as stated by Klamath County Commissioner Kelley Minty, "[the F-35] is the item that will have the biggest impact on [Klamath County] for the next 50 years."

Facilitated by the Klamath County Board of County Commissioners, Hometown KF-35 (a play on the local abbreviation of Klamath Falls and F-35A Lightning) saw a turnout from community entities and agencies from the health care field, education, the business sector and from the City of Klamath Falls, the state governor's office and congress to discuss ways they can prepare and continue to aid Kingsley Field in its latest mission The community needs to know they just won," 173 Fighter Wing Cmdr. Col. Lee Bouma said during the meeting. "The kids that are graduating high school right now could work a full career at this Air National Guard Base and then their kids that aren't even born yet could join and have jobs available working at the same base. [F-35] makes a huge difference for the community."

Bouma went on to say that while Kingsley Field wouldn't be expanding and that manning on the base would remain "relatively" the same, acquiring the F-35 mission establishes the stability of Kingsley Field for decades into the future.

"I don't see a ton of growth," Bouma said. "We'll still have the same challenges with housing, health care, specifically Tri-Care, [we are facing today] in this town."

Ready to answer the call, Klamath Basin Behavioral Health CEO Kendall Alexander said the biggest issue being faced within health care is a workforce shortage and the lack of Tri-Care providers in the area.

"There are less than 10 Tri-Care providers in the community that can see Tri-Care clients," Alexander said.

Col. Micah Lambert, vice commander of the 173FW, shared his misgivings with Tri-Care that when he contacted Tri-Care to add more providers he was told that the Klamath area already has too many.

"We hope that in July we'll be able to get more additions," Lambert said. "On base, we've hired a director of psychological health and a military family life counselor. We've built up our psychological staff and have made it much more healthy than it has been in the past."Klamath Health Partnership CEO Amanda Blodgett shared that access to health care is a "considerable issue" and that her office has been working on recruiting providers to be able to see Airmen in the community as quickly as possible.

"[Klamath Health Partnership] is aware of the need, but it's not an easy issue to solve," she said.

Regarding housing, Bouma stated the county wouldn't see any significant changes as to the needs of Kingsley Field, but that the community as a whole needs more homes.

The group at the meeting also heard from Heather Harter of the Klamath County Chamber of Commerce who said the largest committee under the chamber is the Military Affairs Committee and that they are committed to assisting Kingsley Field in any way possible.

Bouma issued a warning during the meeting that community leaders need to be aware of future potential investors interested in the Klamath area that have ties to China.

"This is a problem already happening in other communities [that house F-35s]. This is a significant security threat to Kingsley Field," Bouma said. "I need you guys to look behind the cover sheets and see who exactly is representing [the investor]."

Kingsley Field will be receiving the first batch of F-35As to replace its current F-15Cs once an environmental impact survey is completed in 2025. Bouma expects to have the new aircraft in 2026.